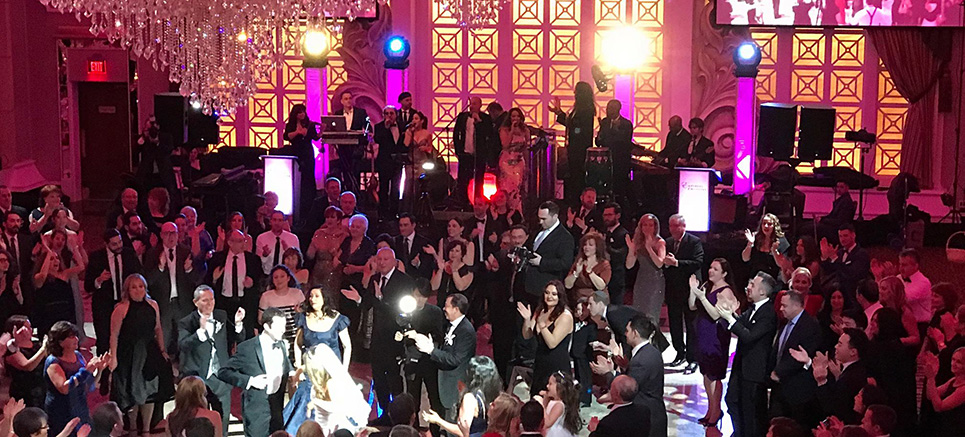 Together with you, we can create the perfect soundtrack for your special day.
Reception/Dinner
Band: When it's time to party, we have you covered. The Empyreal Band has been passionately making music together for many years. They have toured extensively across the country, some members along side such notable acts as Taylor Dayne, Bo Diddley, and the Tommy Dorsey Orchestra Conducted by Buddy Morrow. No strangers to the studio – one Empyreal band singer had a chart-topping single that beat out platinum recording artists Fat Joe and R. Kelly – they still can't wait to be in front of a crowd, entertain and have a good time. Whether its James Brown or Justin Timberlake, Frank Sinatra or Earth, Wind, and Fire, they'll guarantee you'll have a blast
DJ: Our professional DJs know how to keep the energy high and the party going. Request the music you want to hear or let them expertly mix a song list that includes everything from the latest in hip-hop and dance music to the classics everyone loves to hear. With years of experience playing in clubs in and around the city, they know how to read a crowd and play the right music at the right time.carefully managing the rhythm of your party. And if that isn't enough, our host-emcees will work with you to create the perfect environment for your guests to have a good time.
Entertainment
Our stable of talented singers can deliver your favorites with unparalleled energy. Looking for that unique touch? Consider our exclusive Violin Show, thrilling ballroom dancers, intoxicating belly dancers, klaismer dancers, colorful Gypsy Show or Israeli sensation.
Cocktail Hour
It's time to mingle! For the perfect background music, we can provide everything from strolling violins with piano to a traditional jazz quartet and anything in between.
Wedding Ceremony
Set the right mood with a classical string quartet, trio or duet, a classical guitar or harp and flute. Our classical musicians are former members of the State Symphony Orchestra of Russia, Moscow Philharmonic Orchestra, Kiev Opera and Ballet Theatre Orchestra. They have worked with such famed conductors as Evgeni Svetlanov, Zdenek Macal and Juri Zirjuk and played with such notable talents as Luciano Pavarotti and Ray Charles, cellists Yo-Yo Ma, Mistlav Rostrapovich, and Natalia Gutman, pianists Svyatoslav Richter and Michael Pletnyev, and violinists Valery and Igor Oistrash. We have a full orchestra of trained professionals at our disposal, so we can provide you with whatever instrumental combination you desire.