David Ash – CEO and General Counsel – Sam Ash Music
The owner of Sam Ash Music Stores
As owner of Sam Ash Music Stores, we know and have used many fine bands for our family events, but none were as impressive as Empyreal Strings. They selected the perfect performers for each type of music and for each part of our daughter's wedding. Our guests could not stop talking about Roman's impressive string show that highlighted our dinner. Four electronic stringed instruments provided the fullness of a large orchestra. The excitement of the performance is unforgettable.
The band makes or breaks a party. You cannot do better than Empyreal Strings.

Leonard A. Lauder – Chairman Emeritus – The Estée Lauder Companies Inc.
It is my great pleasure to recommend Roman Teplinsky, owner, Founder, arid conductor of Empyreal Strings Orchestra, to you I first met Mr. Teplinsky in February 2002 at the Neue Galerie in New York City where Empyreal Strings supplied the music for a family member's engagement party. The music was extraordinary, and I arranged to be introduced to Mr. Teplinsky.
I am honored that Mr. Teolinsky has since provided the music for many of my and my family's personal events, such as dinner parties at my home In New York City. He has also handled many corporate events for The Estee Lauder Companies, of which I am the chairmen emeritus. Guests invariably remark that the music they nee rd 'made' the event.
Mr. Teplinsky's music sets the mood perfectly, and he really understands the ebb and flow of an event and what music should line played when. He makes wonderful suggestions while supporting my and my family's ideas.
Last month, Mr. Teplinksy conducted at what was for me a most meaningful event: the celebration of the life of my dear wife, Evelyn, who, sadly, passed away in November. Held in New York City at Lincoln Center's David I-I Koch Theater, the event featured the 24-piece Empyreal Strings orchestra during our service and the 18-piece orchestra during the reception. More than 1500 guests listened to music that had personal meaning for my wife and me (a variety of songs from over the years), honored her Austrian heritage CThe Blue Danube." "Tales of Vienna Woods,'" "Vienna, My City of Dreams, or were just great songs that fit the celebrator), nature of our event (I Could Have IJanceci All Night," "Patin' on the Ritz," "Unforgettable," "New York, New York").
The range of music was wonderful, and the orchestras, led by Mr. Teplinsity, played beautifully He managed to capture and reflect the spirit of my late wife, and everyone present was touched and moved by the wonderful music recommend Mr. Teplinsky with great enthusiasm.

Oliver Grace – Chief Executive Officer and President – Anderson Group, Inc.
Dear Roman,
I want to convey my heartfelt appreciation for providing an outstanding group of musicians on the night of my army daughter's wedding as well as the string quartet for the Rehearsal Dinner before. Your professionalism and dedication to the job exceeded everyone's expectation.
With the vast experience and individual talents of each of your band members and an extensive repertoire of instrumental & vocal numbers, your group of musicians produced many individually tailored performances to suit everyone's tastes.
We wanted it at all, from Rock n' Roll to Cole Porter and we got it. It was spectacular. We were very happy with all of the arrangements you provided. The testament to that was the full dance floor for six hours. Since the wedding, we have had many comments about how great the band was and the variety of music… "where did you find that band", is a comment we heard most often! Some of my guests mentioned that the quality was similar to the actual performances by the original artists. With such a diversity of music performances, you provided a full acquirement from music to lighting which complements the performances.
The arrangements are very full and rich. We went with the 14 piece orchestra to make sure we had a variety of female and male vocals. A key feature of this group seemed to be they can pick the right song for the moment and adjust the music… length of a song, intensity etc. I enjoyed your talent and professionalism.
Sincerely,
Oliver R. Grace, Jr.

Francesca Pedemonti – Vice President, Global Co-Head – Events at Goldman Sachs.
Dear Roman,
We wanted to say thank you for your invaluable support over the past month with the coordination of the Goldman Sachs Partners' Dinner at the New York Botanical Garden on Saturday, December 2.
The entertainment was an integral component of the evening and it was a delight to experience the talent of your musicians. Thank you for creating a memorable MILMiCai program.
The Partners Dinner was a great success and we appreciate your energy and hard work with the planning and execution this event_ Thank you for everything_ We look forward to partnering with you on future events.
Best,
Francesca Pedemonti.

Kimberly Schreter – Barneys New York
Roman,
Thank you for your patience and for the beautiful music.
Best,
Kimberly Schreter.

New York, NY (Top40 Charts / Empyreal Strings Music & Entertainment)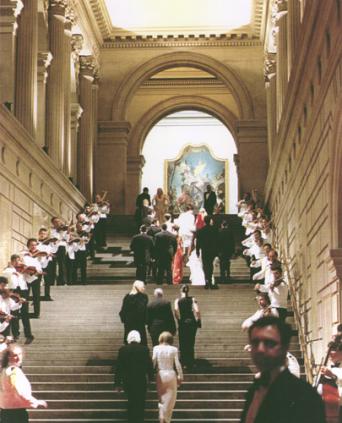 Empyreal Strings, founded in 1993, started out with one classical string quartet and has grown to become an amazingly vital and versatile music entertainment organization that now includes a 30-plus-member Orchestra, several Jazz Ensembles both modern and classic, a swinging Dance Band, riveting Violin Shows, glamorous Ballroom Dancers, scintillating Gypsy & Klezmer shows, fabulous DJs for all occasions, wedding music and much, much more. In March 2011, Empyreal Strings is set to kick off its 15th Anniversary with a Gala Performance that will feature specially chosen musicians and performers from all of the various components – artists who are as technically proficient as they are passionate about music and entertainment. Like a many-faceted diamond, Empyreal Strings has only increased in brilliance as it's diversified into a dazzling variety of styles and groups.
The scope of Empyreal's activities is truly astounding: From the beaches of South Hampton to the penthouses of Manhattan; from Beaufort, South Carolina to Avignon, France; from playing for thousands to playing for a beautiful couple on Valentine's Day with a strolling violinist on the Brooklyn Bridge; from weddings to memorial services to birthday parties and retirement celebrations, Empyreal Strings has performed all around the world, for all occasions, and at every conceivable venue. Whatever the event, Empyreal Strings is committed to providing an exciting, memorable and totally satisfying musical experience perfectly tailored to a wide variety of tastes – Classical, Ballroom, Big Band, Swing, Motown, R&B, Rock, Disco, Latin, Top 40 – you name it, Empyreal can provide it!
A partial list of the headliner artists Empyreal Strings has appeared with in concert reads like a Who's Who: Solomon Burke, Bo Diddley, Gloria Gaynor, Ben E. King, Santana, Percy Sledge, Bruce Springsteen, Martha Reeves, The Tokens, and many others. Empyreal's Classical and Jazz ensembles are led by conservatory-trained professionals with years of experience, complemented by talented younger players who give each ensemble its characteristic energy and enthusiasm. The Classical ensembles at Empyreal Strings include different combinations, from solo performers, duets, trios, quartets, quintets, and octets to a full Chamber Orchestra with strings, winds, brass, harpsichord, piano and harp.
Following is a partial list of Empyreal Strings' most memorable engagements:
Sarah Jessica Parker's 40th Birthday Party at The Plaza Hotel, NYC.
The wedding of Harvey Weinstein (American film producer and co-founder of Miramax Films) and Georgina Chapman in Wesport CT.
A dinner for Aby Rosen (New York real state tycoon) at Four Seasons Grill Room, NYC.
Stevie Wonder's daughter Aisha's wedding at Rockleigh CC, Rockleigh, NJ.
The wedding of Jane Lauder (granddaughter of Estee Lauder) in Palm Beach, FL.
The Taylor wedding in Beaufort, South Carolina.
The wedding of Maria Guleghina (acclaimed opera soprano) and Vyatcheslav Mrktyachev (Olympic Champion wrestler and Coach of the Russian Olympic team) at the St. Regis Hotel, NYC.
The Chambers wedding in Maussane-Les-Alpilles, France.
Estee Lauder Companies "The Opening Dinner of the 2010 World Department Store Forum" in the Rotunda of the Solomon R. Guggenheim Museum in NYC.
Nancy Reagan's Presentation Book at Neue Galerie, NYC.
Riverdance 10th Anniversary at Metropolitan Club, NYC
New York Community Hospital's Annual Dinner Benefit Parties 2003-2010
Empyreal Strings Full String Orchestra has its own list of impressive credits, which include:
Metropolitan Museum for the gala opening of the exhibit "Jacqueline Kennedy: The White House Years", and more recently, special holiday events for Goldman Sachs at the Museum of Modern Art and the New York Botanical Garden.
UBS Holiday Parties at the Metropolitan Museum and the Museum of Natural History NYC.
Estee Lauder's "Winter Gala" Corporate Parties 2003-2006 at Neue Galerie, NYC.
Dedication ceremony for the re-opening of 7 World Trade Center, NYC.
Alzheimer's Association NYC Chapter's 22nd Annual "Memory Walk 2010" at Riverside Park, NYC
The Mount Sinai Medical Center "Crystal Ball" at The Mount Sinai Medical Center, NYC
Empyreal Strings TV Appearances include:
Live with Regis and Kathie Lee "Wedding" ABC Studios, NYC.
"Morning CNN", NYC.
Food TV Network's "Food Fantasy: Marry Me" at Sea Grill Restaurant (Rockefeller Center) NYC.
The 15th Anniversary will be a special occasion to showcase ALL of the achievements of New York's own Empyreal Strings.
Original Article

Reference on our services from Ilona and David Carus
Dear Mr. Teplinsky:
My husband David and I wanted to express our sincere gratitude for your exceptional performance at our wedding ceremony and reception. The 20-piece Empyreal Strings orchestra was a memorable audio and visual display of musical talent. It has been a year since our wedding and people are still raving about the variety of music and performers.
Since the first day we met, you have exemplified the highest level of professionalism. It is with great pleasure that we have and will continue to recommend Empyreal Strings Orchestra for any special occasion. We would be honored to have you perform at any future events for us.
Best Regards,
Ilona and David Carus

Reference on our services from Luba & Eugene
Dear Roman Teplinsky
I wanted to thank you for the amazing job you did at our wedding. The orchestra performed unbelievably. I cannot believe how many people were walking up to me completely surprised by the sense of luxury you were able to present.
The strings orchestra was my husband's favorite. "Real music" he called it, not some guy singing to a synthesizer. The violists were also grand. When they battled I saw everybody rise rooting for the violinist nearest them. Wow!!
During the cocktail hour people were all wondering where I found this band. You are a
refreshing change from many of the bands out there. Your skill as a band leader was also great. The whole night went off without a hitch.
I am much happier that we hired your band to perform at our wedding. Having seen the
competition at other weddings we were much happier with you. The other musicians were nothing in comparison with your work.
I would gladly recommend you to all of our friends and relatives.
Thank you again
For an unforgettable night!!!!!!
Luba and Eugene

Reference on our services from Archbishop Patrick E. Trujillo
Dear Mr. Teplinskiy:
Thank you very, very much for the extraordinarily beautiful musical renditions you and the other members of your company performed during the Wedding of Tac Un kwon and Soy eon Ahn at The Palisadium Daewon in Cliffside Park, New Jersey, on December 28, 2000.
What a memorable experience!
Enclosed please find four (4) business cards which I promised to give you. Please note that the E-mail listed on the cards is "ok" until January 29, 2001.
After January 29.2001. my new E-mail address will be: poctpatrick@vol.net.
God bless you, your family, and your Music Apostolate now, throughout this Sacred Season of Our lord's Birth, and in the New Year.
Sincerely,
Archbishop Patrick E. Trujillo. D.D., F.C.M.