Introduction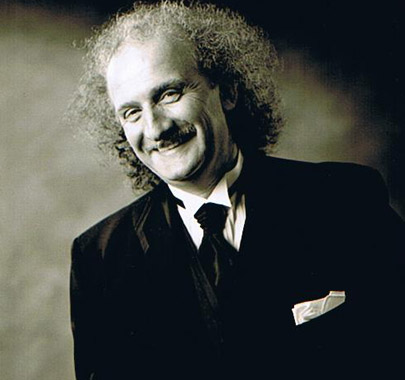 Roman Teplinsky
Owner and Founder, Empyreal Strings
Since founding Empyreal Strings in 1993, I have prided myself on choosing musicians and performers who are not only technically proficient, but who are as passionate about what they do as I am.
By staying true to this philosophy, I have watched the company grow from representing just one classical string quartet to offering a 30-plus member orchestra, a hopping 10-15 pieces dance band, jazz ensembles, a riveting electric violins "Extravaganza Show", ballroom dancers, a gypsy and klezmer show, club-quality DJs, and much, much more.
Like a fine diamond, Empyreal Strings has only increased in brilliance as we've added more facets, or sides, to our business. From the beaches of South Hampton to the penthouses of Manhattan, from Beaford, South Carolina to Avignon in southern France, from playing for thousands to playing for two (how does a strolling violin on the Brooklyn.
Bridge sound for Valentine's Day?), from weddings to funerals to birthday parties and retirement celebrations, Empyreal Strings has performed all around the world, for all occasions, and at every conceivable venue. Whatever the event, we are committed to providing a quality, spirited musical experience, perfectly tailored to your tastes.
Who We Are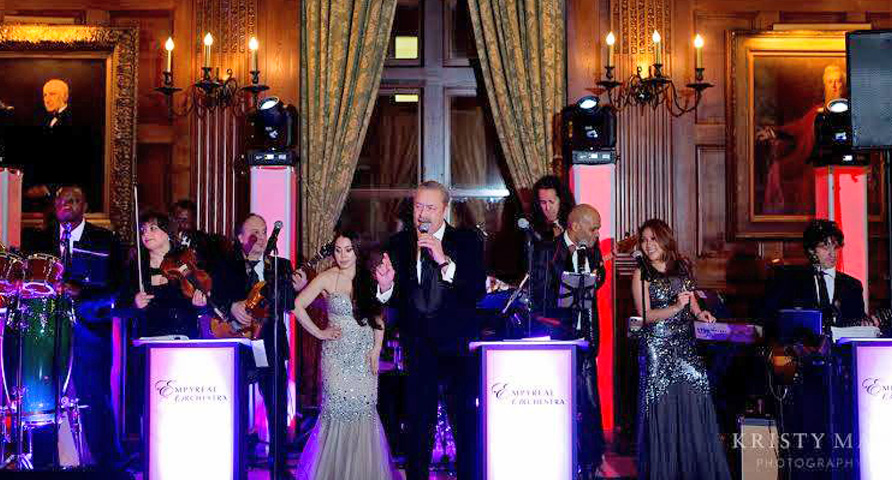 Classical Strings – Wedding Musicians
Empyreal band members have appeared in concert with Solomon Burke, Bo Diddley, Gloria Gaynor, Ben E. King, Santana, Percy Sledge, Martha Reeves, The Tokens, among many others. Empyreal classical and jazz string ensembles are led by conservatory-trained professionals with years of experience, complemented by talented younger players, giving each Empyreal Ensemble its characteristic energy and enthusiasm.
The Music
Dance Band & Orchestra – featuring Ballroom, Big Band, Swing, Motown, R&B, Rock, Disco, Latin, Top 40 – all styles to suit your tastes. Classical Chamber Ensembles – duets, trios, quartets, quintets – strings, winds, or brass. Jazz Ensembles – big or small, specializing in Swing, Cool, Be-Bop and Modern. Full String Orchestra – this elegant ensemble was featured at the Metropolitan Museum for the gala opening of the exhibit "Jacqueline Kennedy: The White House Years," and more recently at the Museum of Modern Art for a special holiday event for Goldman & Sachs.
The Entertainers
Dancers: Ballroom Dance Couples; authentic Belly Dancers; even Las Vegas-style Showgirls. Vocalists: Opera, Pop, Jazz. The "Extravaganza" Show (electric string quartet "BOND" style) – a special intermission feature unique to Empyreal.
Appearances and Events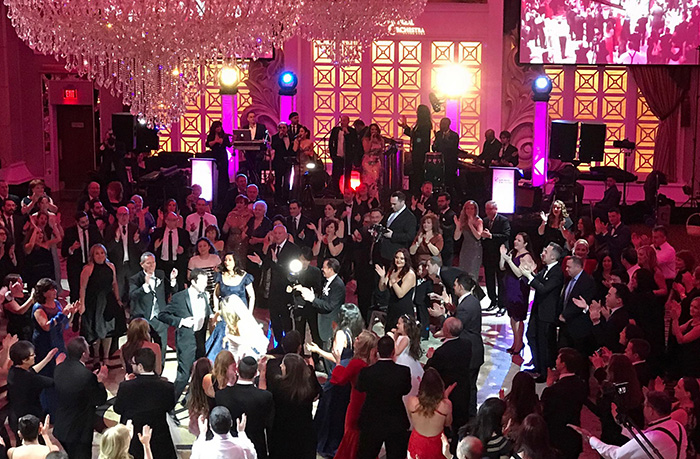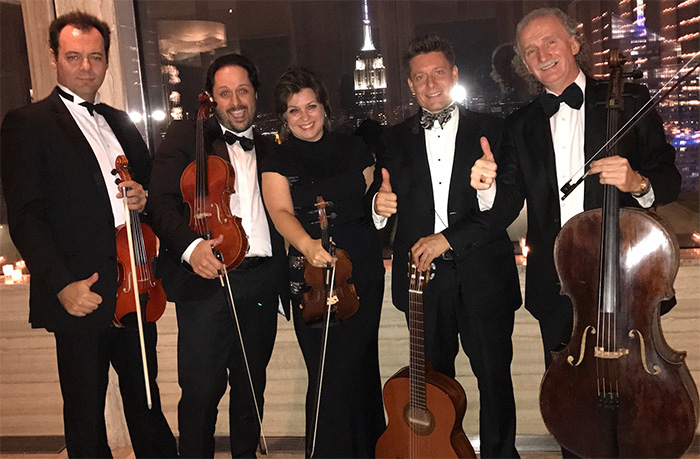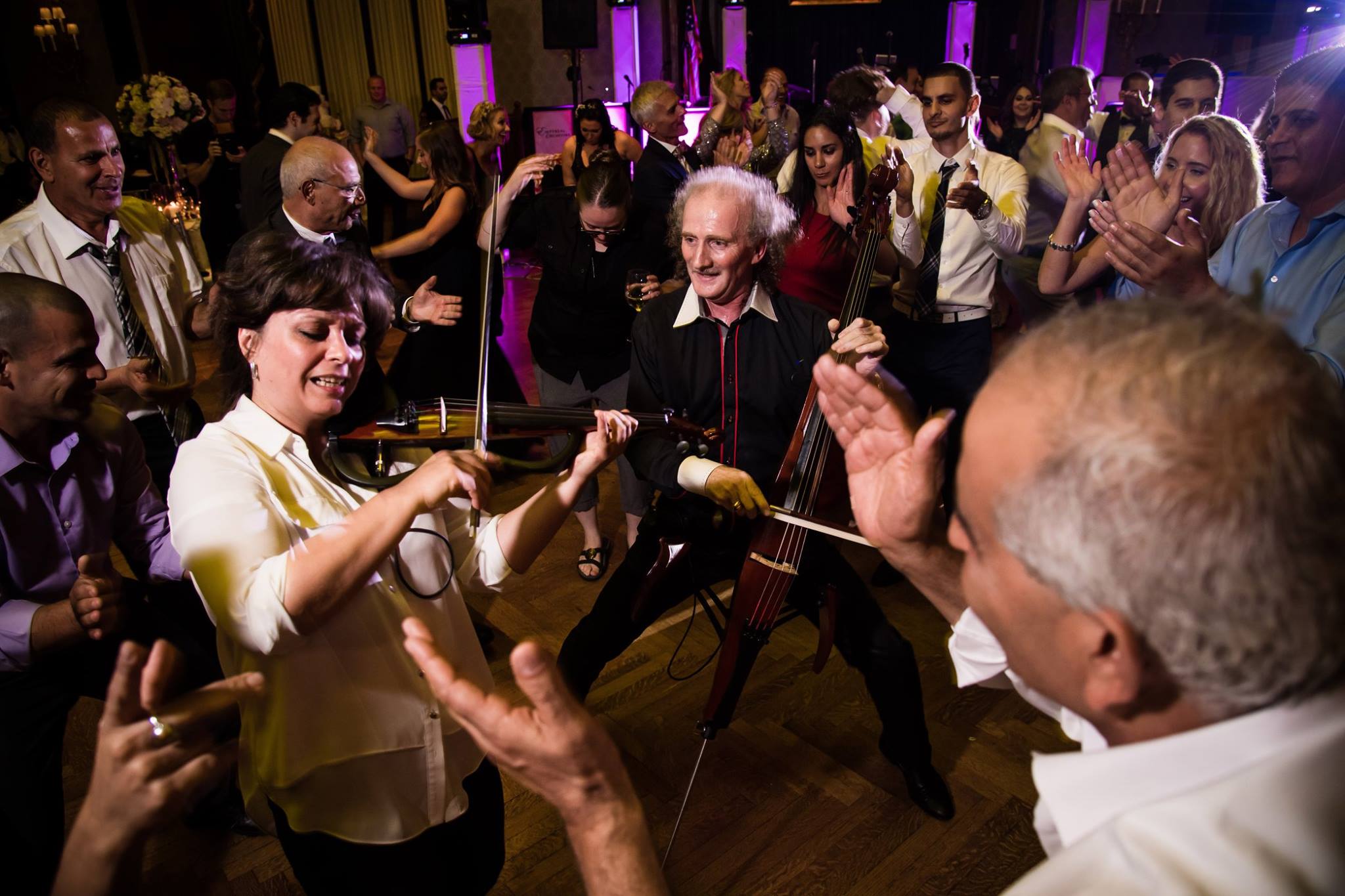 TV Appearances
Live with Regis and Kathie Lee,"Weddings"; ABC Studios, New York City;
"Food Fantasy: Marry Me"; The Sea Grill (Rockefeller Center) for the Food-TV Network;
"Morning CNN"; March 2002.
Recent Events
Gala event for "Jacqueline Kennedy: The White House Years"; The Metropolitan Museum of Art, New York City
Goldman Sachs partners dinner at MOMA, December 2004,New York City
Goldman Sachs Christmas Party at New York Botanical Gardens; December 2006, New York
UBS Holiday Party at Metropolitan Museum; December 2006,New York City
Estee Lauder "Winter Gala" corporate Parties 2003, 2004, 2005, 2006; Neue Galarie, New York City
7 World Trade (new Construction) opening, March 2006
NY Community Hospital Fundraiser Parties 2004, 2005, 2006; Temple Beth El, Cedarhurst, New York
The Mount Sinai Medical Center "Crystal Ball"; The Mount Sinai Medical Center, May 2006, New York
Riverdance 10th Anniversary, Metropolitan Club, New York City
Nancy Reagan's Presentation Book, Neue Galerie, New York City
Recent Events
Wedding of Harvey Weinstein & Georgina Chapman in Westport, CT, December 2007
Wedding of Vanessa Hoerman & Henry Cornell (Goldman Sachs partner), October 2005
Stevie Wonder's daughter Aisha; Rockleigh CC,Rockleigh NJ
Estee Lauder's granddaughter wedding; Palm Beach,FL
Sara Jessica Parker 40th Anniversary; Plaza Hotel,March 2005,New York City
Taylor's wedding in South Carolina; Beaford,South Carolina 2007
Chambers wedding in South France; Maussane – les-Alpilles, France
Rosen Dinner; The Four Seasons Grill Room,New York City
Wedding for Ronald Perelman's Daughter; (Charman,MacAndrews & Forbes Holdings), Le Cirque Restaurant, New York
Hoerman Wedding, New York Public Library, Astor Hall, NYC
Schulhof Wedding, Metropolitan Club, New York City