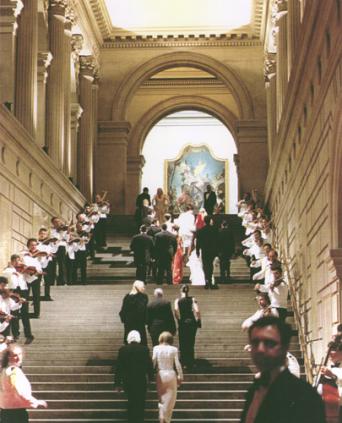 Empyreal Strings, founded in 1993, started out with one classical string quartet and has grown to become an amazingly vital and versatile music entertainment organization that now includes a 30-plus-member Orchestra, several Jazz Ensembles both modern and classic, a swinging Dance Band, riveting Violin Shows, glamorous Ballroom Dancers, scintillating Gypsy & Klezmer shows, fabulous DJs for all occasions, wedding music and much, much more. In March 2011, Empyreal Strings is set to kick off its 15th Anniversary with a Gala Performance that will feature specially chosen musicians and performers from all of the various components – artists who are as technically proficient as they are passionate about music and entertainment. Like a many-faceted diamond, Empyreal Strings has only increased in brilliance as it's diversified into a dazzling variety of styles and groups.
The scope of Empyreal's activities is truly astounding: From the beaches of South Hampton to the penthouses of Manhattan; from Beaufort, South Carolina to Avignon, France; from playing for thousands to playing for a beautiful couple on Valentine's Day with a strolling violinist on the Brooklyn Bridge; from weddings to memorial services to birthday parties and retirement celebrations, Empyreal Strings has performed all around the world, for all occasions, and at every conceivable venue. Whatever the event, Empyreal Strings is committed to providing an exciting, memorable and totally satisfying musical experience perfectly tailored to a wide variety of tastes – Classical, Ballroom, Big Band, Swing, Motown, R&B, Rock, Disco, Latin, Top 40 – you name it, Empyreal can provide it!
A partial list of the headliner artists Empyreal Strings has appeared with in concert reads like a Who's Who: Solomon Burke, Bo Diddley, Gloria Gaynor, Ben E. King, Santana, Percy Sledge, Bruce Springsteen, Martha Reeves, The Tokens, and many others. Empyreal's Classical and Jazz ensembles are led by conservatory-trained professionals with years of experience, complemented by talented younger players who give each ensemble its characteristic energy and enthusiasm. The Classical ensembles at Empyreal Strings include different combinations, from solo performers, duets, trios, quartets, quintets, and octets to a full Chamber Orchestra with strings, winds, brass, harpsichord, piano and harp.
Following is a partial list of Empyreal Strings' most memorable engagements:
Sarah Jessica Parker's 40th Birthday Party at The Plaza Hotel, NYC.
The wedding of Harvey Weinstein (American film producer and co-founder of Miramax Films) and Georgina Chapman in Wesport CT.
A dinner for Aby Rosen (New York real state tycoon) at Four Seasons Grill Room, NYC.
Stevie Wonder's daughter Aisha's wedding at Rockleigh CC, Rockleigh, NJ.
The wedding of Jane Lauder (granddaughter of Estee Lauder) in Palm Beach, FL.
The Taylor wedding in Beaufort, South Carolina.
The wedding of Maria Guleghina (acclaimed opera soprano) and Vyatcheslav Mrktyachev (Olympic Champion wrestler and Coach of the Russian Olympic team) at the St. Regis Hotel, NYC.
The Chambers wedding in Maussane-Les-Alpilles, France.
Estee Lauder Companies "The Opening Dinner of the 2010 World Department Store Forum" in the Rotunda of the Solomon R. Guggenheim Museum in NYC.
Nancy Reagan's Presentation Book at Neue Galerie, NYC.
Riverdance 10th Anniversary at Metropolitan Club, NYC
New York Community Hospital's Annual Dinner Benefit Parties 2003-2010
Empyreal Strings Full String Orchestra has its own list of impressive credits, which include:
Metropolitan Museum for the gala opening of the exhibit "Jacqueline Kennedy: The White House Years", and more recently, special holiday events for Goldman Sachs at the Museum of Modern Art and the New York Botanical Garden.
UBS Holiday Parties at the Metropolitan Museum and the Museum of Natural History NYC.
Estee Lauder's "Winter Gala" Corporate Parties 2003-2006 at Neue Galerie, NYC.
Dedication ceremony for the re-opening of 7 World Trade Center, NYC.
Alzheimer's Association NYC Chapter's 22nd Annual "Memory Walk 2010" at Riverside Park, NYC
The Mount Sinai Medical Center "Crystal Ball" at The Mount Sinai Medical Center, NYC
Empyreal Strings TV Appearances include:
Live with Regis and Kathie Lee "Wedding" ABC Studios, NYC.
"Morning CNN", NYC.
Food TV Network's "Food Fantasy: Marry Me" at Sea Grill Restaurant (Rockefeller Center) NYC.
The 15th Anniversary will be a special occasion to showcase ALL of the achievements of New York's own Empyreal Strings.
Original Article